The Learnosity Help, Author Guide, Reference, and Demos sites are available to the public any time—24/7/365. If you're already a Learnosity customer, and you can't find an answer to your question using our public resources, you can access our support portal and raise a ticket around the clock on weekdays. Subject Matter Experts and experienced Developer Support engineers can help worldwide, with our "follow the sun" support, including teams centralized in:
New York, USA
Dublin, Ireland
Sydney, Australia
Any one of our support team across the world can respond to a ticket in minutes, so your teams aren't stuck relying on a single point of contact or waiting for an email response from someone who might be traveling, out sick, or on leave..
Signing in
To sign into your account, look to the top right of any Help or Author Guide page, and click the "sign in" button. When your account was created, you may have been given access to Help or Author Guide, based on your role or preference. These portals have different content and logins so, if you have trouble with one, try the other and we can help get you the access that best suits your needs. The example images below are from the Help portal, which includes information for developers as well as authors.
Screenshot 1: The "Sign in" button.

Once you click "sign in", you'll see a dialog to enter your email and password.
Screenshot 2: Entering email and password.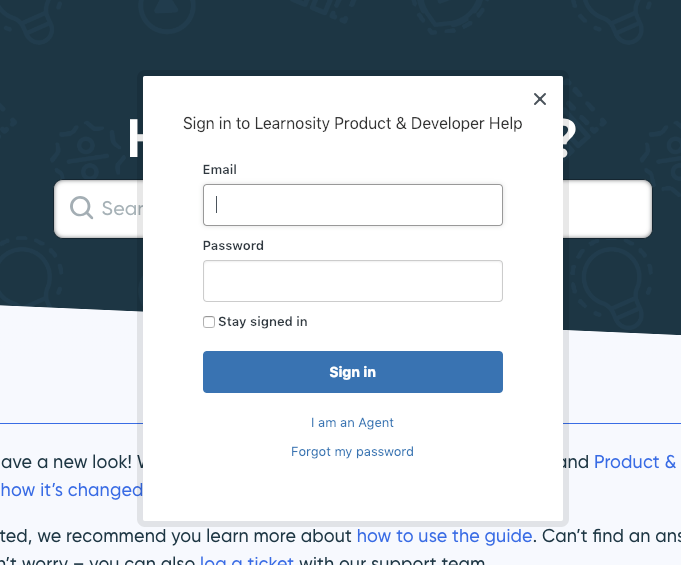 Enter your email and password, and click "sign in".
I don't know my password!
That's okay, you can easily reset it! Just click "forgot my password" at the bottom of the dialog (see Screenshot 2 diagram above), enter your email address, and hit "submit".
Screenshot 3: Resetting your password.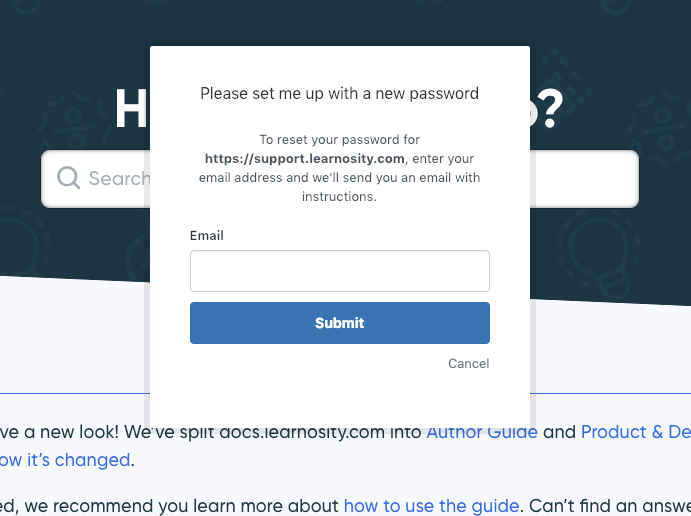 You will receive instructions via email on how to reset your password, and log back in.
I don't have an account!
If you're a Learnosity client already, that's no problem! Simply ask any person in your company who is already using the Learnosity support system to raise a ticket, provide us with your first and last name, and email address, and we'll get you set up ASAP. Your Learnosity Account Manager can also help. Please keep in mind that we may need to verify your identity with the appropriate customer contact, to ensure the safety and security of our clients' data.
If you're not a Learnosity client yet, note that we only provide ticketing system access to our current clients, but you can still take advantage all of our public online resources, including the four main sites listed at the start of this article. If you still need help during an evaluation period, get in touch with your Learnosity Business Development representative. If you haven't yet started talking with our Business Development department, drop a line to our Marketing team via the learnosity.com website, either through our live chat, or by clicking "request a demo".